Walking and cycling in Ullswater, the Lake District
The most spectacular and famous walking and cycling routes in the Lake District can be found in the Ullswater Valley around the Ullswater Way, including the seven-mile lakeshore walk between Howtown and Glenridding, circular walk of Hallin Fell affording spectacular views over Ullswater or the family-friendly footpath between National Trust Aira Force and Glenridding or a short walk around the the iconic waterfalls of Aira Force itself.
There are miles of bridleways linked to Ullswater 'Steamers' pier stops that suit all levels of walkers, from the might of Helvellyn mountain range at the southern reach, with some of Wainwright's most famous walks such as Striding Edge, to the remote Valley of Martindale, home to native red deer population which offers access to an expanse of seldom-walked fells.
Please note: both Ullswater 'Steamers' pier houses have cycle racks for bicycle parking.
The Ullswater Way
The waymarked Ullswater Way is a 20 mile round the lake footpath linking all four of Ullswater 'Steamers' piers. The route can be walked in either direction and from any starting point, and is a great opportunity to take in all of the scenery Ullswater has to offer during your visit to the Lake District.
Why not walk the Ullswater Way route in shorter sections, using an open top bus or an Ullswater 'Steamer' to start your journey?
The Dalemain Loop
The Dalemain Loop is a circular extension to the Ullswater Way at the north end of Ullswater from Pooley Bridge. The five mile circular walk takes in the stately Dalemain Mansion and the ancient church of Dacre, with its four enigmatic stone bears.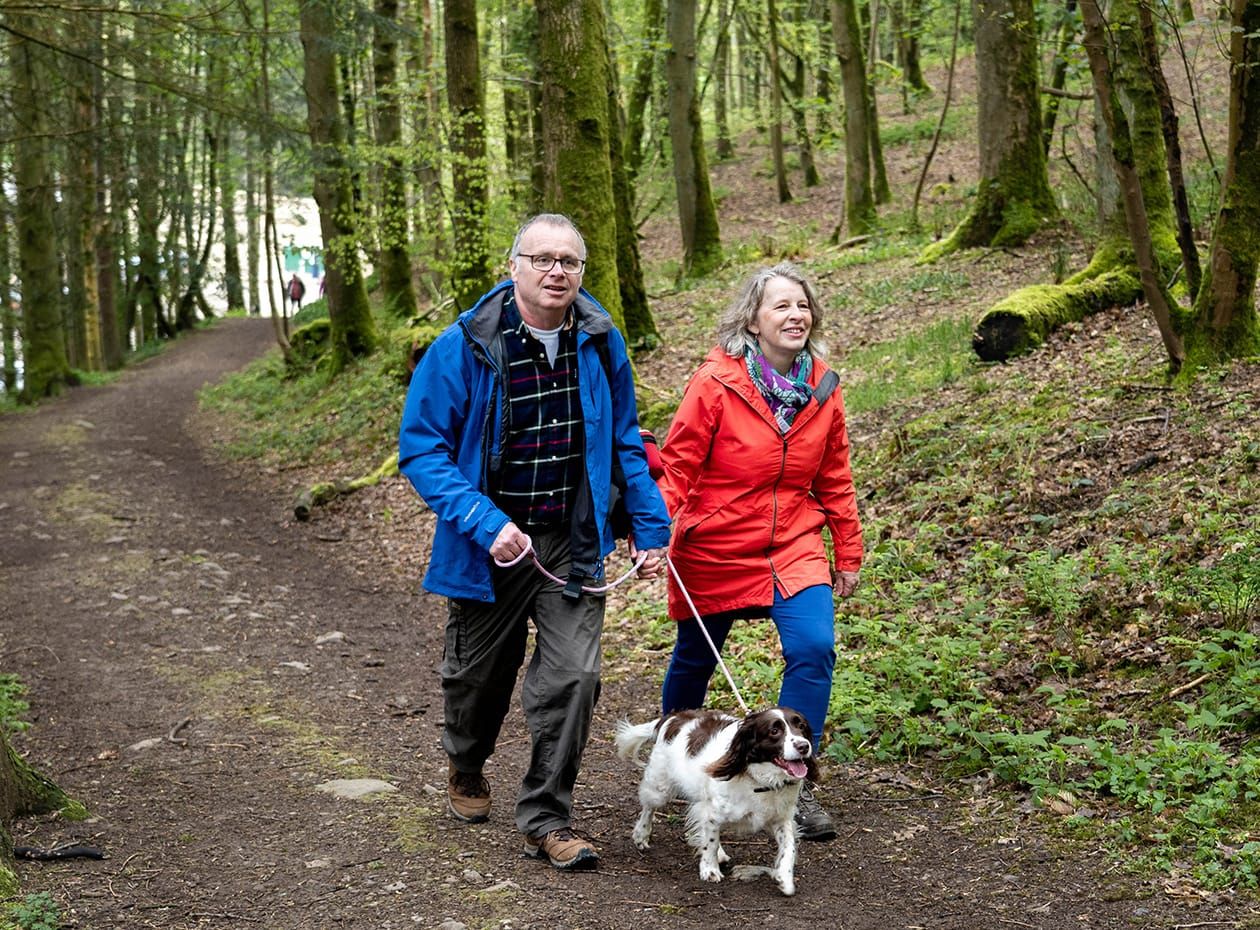 The Lowther Loop
Linking to the Ullswater Way, the Lowther Loop is a circular extension from Pooley Bridge to Lowther Castle. The trail lets you explore the historical Askham village, tranquil woodland and the River Lowther.
Look out for important archaeological sites on Moor Divock, including ancient cairns, burial mounds, standing stones and 'High Street' Roman Road. On a clear day you can enjoy views of Ullswater and the Helvellyn mountain range from Askham Fell.
Ullswater Way Heritage Trail
The Ullswater Way Heritage Trail has been inspired by the heritage trust Friends of the Ullswater Way, who have worked with local artists and craftspeople to create a series of installations around Ullswater.
Each installation celebrates an aspect of the Ullswater Valley's heritage in harmony within the natural Lake District surroundings. Look out for The Poetry Stones, Dorothy's Gate, Wainwright Sitting Stone, Roman Seat and many more.